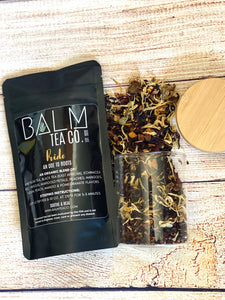 AN ODE TO ROOTS

PRIDE is an organic blend of South African red honeybush tea, East African black tea, echinacea root, hibiscus petals, marigold petals, peaches, mangoes and natural peach, mango & pomegranate flavors.
Our PRIDE blend is our Curator's way of paying homage to the Motherland with native fruit and floral flavors, as well as bold South and East African tea leaves. But this blend is even more than that to her - it honors her family's South Carolina roots. Growing up she was very close to her maternal grandparents and loved listening to their family history and stories, specifically her grandmother's migration from McBee, SC as a 9-year old girl. Many people recognize Georgia as "The Peach State", but South Carolina actually produces more peaches on an annual basis. The infusion of peach flavor, accents of marigolds (a native southern and African flower) and echinacea root (a native South Carolina flower) is symbolic of her direct roots.
Sip up, this blend feels and tastes like home!